Do you need a speaker for your club or organization?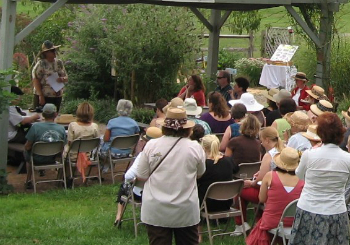 Loudoun County Master Gardeners offer speakers on a wide range of sustainable landscape topics. All presentations are based on sound horticultural principles with emphasis on procedures which are effective and safe for the environment. If any of the topics listed on this page are of interest to your club or organization, e-mail us at LCMGSpeaker@gmail.com to arrange the event (if you have trouble with the email link here, just copy and paste the address into your web email and send that way). The presentations are approximately one hour in length.
Environmental Stewardship
These topics foster care practices for natural resources and habitat:
Creating a Natural Landscape – Wildflower Meadows in Loudoun County
Creating a Wildlife Habitat
Composting
Deterring (Destructive) Wildlife
Good Bug, Bad Bug
Invasive/Alien Plants with Native Alternatives
Lawn Maintenance
Mulching
Native Shrubs and Trees for Loudoun County Landscapes
Rain Gardens
Spotted Lanternfly
Trees, Trees!  The ABC's of Trees! (role trees play in our environment)
Value of Landscape
These topics increase awareness and understanding of the value of edible and ornamental landscape:
Basic Landscape Design
Beautifying with Bulbs
Fall Planting and Landscapes
Container Gardening
Container Gardening for Hot Areas
Culinary Herbs
Flower Gardening
Garden to Table topics, see G2T webpage
Landscaping with Hosta
Ornamental Grasses
Our Native Heritage – Introduction to Native Plants
Pollinators
Preparing Your Garden for the Winter
Pruning Basics
Shade Gardening
To request a speaker for one of the topics listed above, please send an email to LCMGSpeaker@gmail.com (if you have trouble with the email link here, just copy and paste the address into your web email and send that way) with the following information:
Contact name and phone number, Topic Requested, Date and Time requested, Meeting place and address, Type of audience (Adult, Children, etc.), Number of expected participants, General Audience expectations and we will return your email with our availability.
Specialized topics are also available through Garden to Table, Children's Education and Demo Garden Tours.
Loudoun County Master Gardener Speakers do not charge a fee for speakers, however, a donation from your organization will assist the Loudoun County Master Gardeners in presenting environmental horticulture programs to the community.