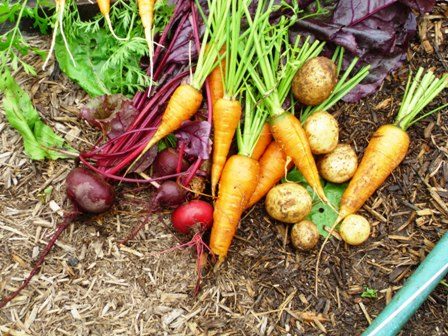 The award winning Garden to Table (G2T) team is dedicated to helping county residents establish vegetable and fruit areas in their home gardens or other community areas.
Speaker Topics
Basics of Vegetable Gardening

Spring and Fall Preparation of an Vegetable Garden

Vegetable Garden Maintenance

Building a Backyard Vegetable Garden

Pest Control and Integrated Pest Management (IPM) in the Vegetable Garden

Harvesting Vegetables
In addition to the topics listed above, the Garden to Table Team provides guidance to residents interested in establishing community gardens which will feature vegetables and fruits. Mentors may also be requested to periodically visit a community garden site and answer questions about vegetable gardening from garden members.
To request a speaker or mentor on one of the G2T topics, please send a request to LCMGSpeaker@gmail.com (if you have trouble with the email link here, just copy and paste the address into your web email and send that way) with the following information:
Contact name and phone number, Topic Requested, Date and Time requested, Meeting place and address, Type of audience (Adult, Children, etc.), General Audience expectations and we will return your email with our availability.
Volunteer Loudoun Volunteer Recruitment and Recognition Committee selected the 2010 Volunteer Awards. MG Garden to Table Team won "Outstanding Volunteer Project".