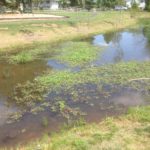 Aquatic plants growing in a pond can quickly get out of hand as the temperature warms up during the spring every year. A pond mostly covered with overly exuberant vegetation is not only a nuisance to pond owners, but can also be detrimental to life in the pond and negatively affect the pond's entire ecosystem.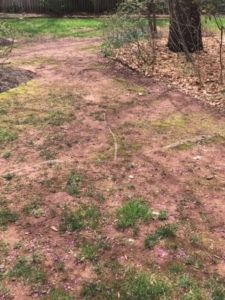 Many established landscapes that were once sunny and full of lush turf grass are now 90 to 100% shaded due to mature tree growth. The shade may present an erosion problem in the landscape due to stormwater runoff where the grass no longer grows and the landscape is sloped. In some cases the water pools and is stagnant for days.
Virginia Cooperative Extension Loudoun County Master Gardeners can come out to visit your property to assess your pond, soil erosion or stream. We take photos, samples and survey the surrounding landscape. Our goal is to provide property owners a set of options so they may choose those best fitting their objectives to maintain their landscape and a healthy ecosystem.
Thank you for the overwhelming interest in site assessments. We are scheduling 6 to 8 weeks out from date of request. Please click link below and we will contact you.
Assessment Request Form
You will get a detailed report within 2 weeks after the site visit.
Thank you for your interest in keeping our watershed healthy.