Demonstration Garden, Ida Lee Park, Leesburg, VA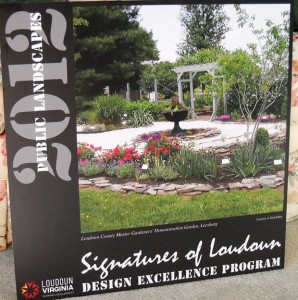 In 2012, the Demo Garden was recognized by the Loudoun County Design Cabinet for the "Signatures of Loudoun Design Excellence Award" as a winner in the Public Landscapes category. This accolade bestows recognition of "design excellence demonstrated in the form of public greens, plazas and squares, which, by their organization and attributes , have created gathering places that are icons of our community". We take pride in this award supported by the Loudoun Department of Economic Development.
The Demo Garden Leadership attended a ceremony headed by Board of Supervisors Chairman Scott York at Dulles Airport, where the winners of the 2012 Excellence Awards proudly display their awards.
---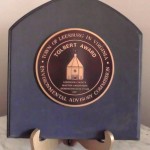 In 2007, the Garden was honored by the Town of Leesburg Environmental Advisory Commission with the "John W. Tolbert, Jr. Environmental Achievement Award". This annual award program recognizes efforts by citizens, students, community groups and businesses to improve the Town's environment. The Garden was awarded for work benefiting the Town's environment through their example that a wholly organic garden is feasible and doable.
---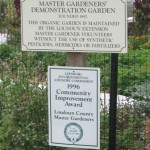 In 1996, the Garden was recognized by the Leesburg Environmental Advisory Commission and awarded the "1996 Community Improvement Award". The Environmental Advisory Commission (EAC) is 7 members appointed by the Town Council to make recommendations to the Council to promote and protect the environmental interests of the Town.
---
Garden 2 Table Team
Each year, the Volunteer Loudoun Board of Directors accepts nominations of outstanding individuals and groups who selflessly give of their time and provide exceptional volunteer service. Those eligible for nomination include individuals, groups and organizations whose volunteer services have directly benefited the Loudoun County community. Honorees are selected based on their level of commitment and the impact made on those being served. An individual (or group) candidate is selected for each of the designated volunteer categories.
In 2010, the Loudoun Volunteer Recruitment and Recognition Committee selected the Loudoun Master Gardener's Garden to Table Team with the "Outstanding Volunteer Project" that year.