Many recent studies have shown that giving children of all ages an opportunity to explore the garden and learn gardening skills provide many life-long benefits including: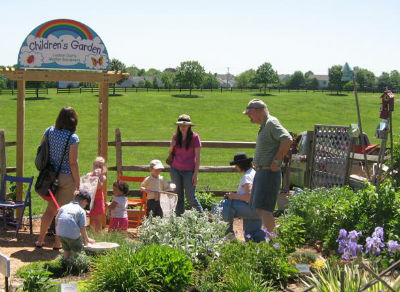 encouraging exercise and healthy eating
enhancing social and interpersonal skills
enhancing scientific, math and language skills
developing motor skills and engaging senses
learning responsibility and patience
learning to plan and organize
care for the environment.

The Children's Education Team (CET) provides a variety of youth-oriented educational activities as part of the larger Loudoun County Extension Master Gardener mission to educate Loudoun County residents about safe, effective and sustainable landscape management practices. Through speakers, hands-on workshops, games and other activities CET volunteers can provide garden and environmentally-focused activities to school classes and youth groups at your site, the Master Gardener Demonstration Garden in Leesburg or at community events.
The following list shows seven basic topics and a selectin of specific activities. Where a lesson or activity is designed for a specific age group or to support grade level science SOLs, that age or grade level is shown in parentheses. In most cases, however, the activity may be adapted to accommodate either younger or older youth on request.
Time allotment for presentations can be flexible, but most of the individual activities can be presented in 15-20 minute centers so multiple activities may be combined for a longer program where age-appropriate.
Garden Basics
Soil
Water
Plants
Trees
Seeds
Critters in the Garden
To request a presentation, click here to complete the LCMG Children's Education Team Request Form. Choose your Basic Request Topic from the drop-down menu and then list specific activities or details in the comment section. You will be contacted within two weeks to confirm your request and details of your program.
Loudoun County Master Gardeners do not charge a fee for speakers or workshops; however, a donation from your organization will assist us in presenting horticulture programs to the community.
For more information related to children and adventures in the great outdoors, check out some of these useful sites: