Many recent studies have shown that giving children of all ages an opportunity to explore the garden and learn gardening skills provide many life-long benefits including: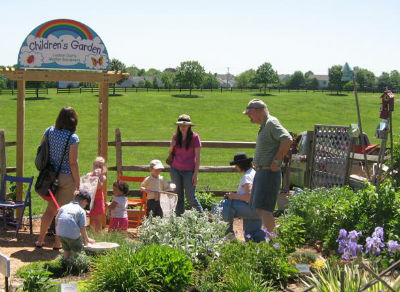 encouraging exercise and healthy eating
enhancing social and interpersonal skills
enhancing scientific, math and language skills
developing motor skills and engaging senses
learning responsibility and patience
learning to plan and organize
care for the environment.

The Children's Education Team (CET) provides a variety of youth-oriented educational activities as part of the larger Loudoun County Extension Master Gardener mission to educate Loudoun County residents about safe, effective and sustainable landscape management practices. Through speakers, hands-on workshops, games and other activities CET volunteers can provide garden and environmentally-focused activities to school classes and youth groups at your site, the Master Gardener Demonstration Garden in Leesburg or at community events.
The following list shows seven basic topics and a selectin of specific activities. Where a lesson or activity is designed for a specific age group or to support grade level science SOLs, that age or grade level is shown in parentheses. In most cases, however, the activity may be adapted to accommodate either younger or older youth on request.
Time allotment for presentations can be flexible, but most of the individual activities can be presented in 15-20 minute centers so multiple activities may be combined for a longer program where age-appropriate.
Garden Basics

Garden consultation – guidance on planning vegetable, sensory or pollinator garden
Demonstration Garden Tour
Garden Observation and Classification
Garden Habitat (K-3rd)
Garden Food Chain (2/3rd) and Food Web (3rd-5th)
Square Foot Gardening (4th grade and up)
My Backyard Game for Children (see My Backyard description).
Soil

Soil Types
Soil Layers (2nd & 3rd)
Sedimentation and Water Infiltration (3rd and up)
Worms and other Decomposers (preschool-3rd grade)
Compost (2nd-5th)
Water

Water Phases (preschool-K)
Water Cycle (1st-3rd)
Water Shed (3rd and up)
Enviroscape model to explore human impact on watershed (4th and up)
Plants

Basic needs (preschool-1st)
Benefits of plants (2nd-5th)
Parts of a Plant (K-2nd)
Plant Life Cycle (2nd-3rd)
Flowers – Pollination and Fertilization (4th/5th)
Photosynthesis (4th& 5th)
Plant Characteristics and Classification (2nd grade and up)
Plant Cells (4th/5th)
Reproduction and Propagation (5th and older)
Parts of a Plant We Eat (2nd and up)
Trees

Value of Trees (K-1st)
Parts of a Tree (1st-3rd)
How a Tree Grows (1st-3rd)
Conifers vs Deciduous Trees (1st-3rd)
Who Lives in a Tree (preschool-1st)
Seeds

Exploring Variety of Seeds
Inside a Seed (K-2nd)
Seed germination (preschool-2nd)
Seeds on the Move (2nd-5th)
Seed Discovery in Foods (3rd – 5th)
Non-seed reproduction (bulbs, tubers, spores, leaf propagation) (4th and up)
Critters in the Garden

Critters in the Garden (Preschool)
Helpful or Harmful
Butterfly Life Cycle (1st-3rd)
Pollinator Flower Game (2nd-4th)
Who is a Better Pollinator? (3rd-5th)
Pollinator Bean Bag Toss
Pollinators and Flower Preferences (4th and up)
Sense of Smell (4th and up)
Butterfly or Bee special presenter as available
To request a presentation, click here to complete the LCMG Childrens Education Team Request Form . Choose your Basic Request Topic from the dropdown menu and then list specific activities or details in the comment section. You will be contacted within two weeks to confirm your request and details of your program.
Loudoun County Master Gardeners do not charge a fee for speakers or workshops; however, a donation from your organization will assist us in presenting horticulture programs to the community.
For more information related to children and adventures in the great outdoors, check out some of these useful sites: