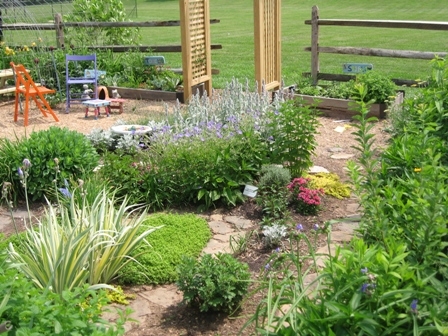 The Children's garden was developed several years ago so children could have a place of their own to explore, learn and play. Packed into many small spaces, there are child size features aimed to encourage lots of imagination!
When you step into the Children's garden you are greeted by a winding maze filled with colorful, as well as, sensory stimulating plants and flowers.
Then, you may be lead to the 'touch' garden where children can touch and feel many different plants – learning how different plants can affect your senses. Very close by is the 'smell' garden that will help them become more aware of all the wonderful different smells of plants and why they smell that way.
Everyone loves the parade of colorful painted birdhouses that line one side of the fence. Also along this fence are native Virginia wildflowers. Children are amazed that Virginia so many beautiful native wildflowers.
Across the garden there is a charming vine house covering the picnic table – a special "house" for them to hide and play (not quite big enough for adults) or eat lunch.
Additional Activities in the garden Include
Pretend you are on a safari in the tropical play area around the palms and cannas
Play seek and find with given directions on a flyer near the Vine house.
Look for toads in the toad house.
Gardening With Children External Resources
http://humeseeds.com/kids.htm
http://kidsgardening.com
We have a team devoted to children's education.  We work with High School age or younger kids and facilitate speakers, workshops or other educational activities.  For more information, see our Children's Program Page.