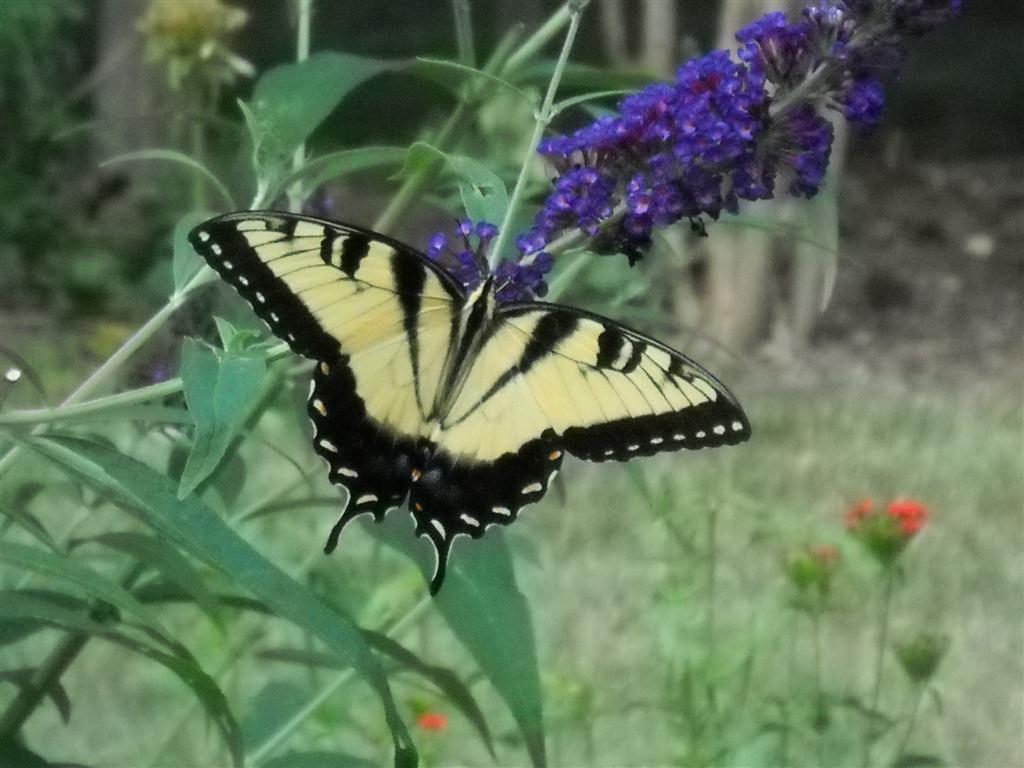 These gardens attract butterflies that flit and float into the area. The butterfly garden is shaped like a butterfly and the plants in the garden are butterfly attractors. You will find the butterfly bushes in the adjoining perennial bed. Read our Butterfly Gardens flyer to see the garden layout.
Different species of butterflies have different preferences for nectar, in both colors and tastes and for host plants. A wide variety of food plants will give the greatest diversity of visitors. Try staggering wild and cultivated plants, as well as blooming times of the day and year. Groups of the same plants will be easier for butterflies to see than singly planted flowers.
We are in the process of adding more milkweed to this garden as well as around the entire area to become a certified Monarch Waystation.  For more information:  Monarch Watch
For more on butterfly gardens visit How to Make Butterfly Gardens.
Our Butterfly Garden includes:
Our Perennial Bed includes:

Catmint Nepeta catoria

Lamb's Ear Stachys byzantina

Joe-Pye Weed Eupatorium spp.

Lemon Balm Melissa officinalis

Globe Thistle Echinops

New York Ironweed Vernonia

Tall Meadow Rue Thalictrum spp.

Purple Coneflower Echinacea

Anise Hyssop Agastache

Goldenrod Solidago

Bronze Fennel Foeniculum vulgave

Johnny Jump-ups Viola cornuta

Dwarf Aster Asteraceae

Russian Sage Perovskia

Garden Phlox Phlox paniculata

Yellow Coneflower Rudbeckia fulgida

Stonecrop Sedum Sedum

Black-eyed Susan Rudbeckia

Bee Balm Monarda

Lilyturf Liriope muscari

Yarrow Achillea

Chrysanthemum Chrysanthemum

Chinese Peony Paeonia lactiflora

Tickseed Coreopsis

Siberian Iris Iris sibirica

Butterfly Bush Buddleia davidii

Iris Iris

Lamb's Ear Stachys byzantina

Aster Asteraceae