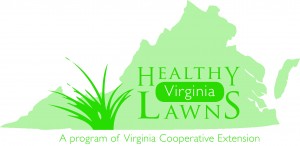 Want to have a beautiful lawn, fight pollution, and help clean up our watershed?
Have the Loudoun County Cooperative Extension Master Gardeners take a soil sample of your lawn and determine just how much fertilizer and lime you need. Applying too much can deposit excess nitrogen or phosphorus in our local streams.
Nitrogen and phosphorus can pollute our rivers and streams. They are normal ingredients in most commercial lawn fertilizers, but when applied in excess, they run off or leach into nearby streams and rivers. Algae, whose growth is usually limited by nitrogen availability, use this flood of nitrogen to grow out of control, leading to algae blooms. This uses up oxygen in the water and blocks out light, suffocating aquatic life and preventing underwater plants from photosynthesizing. Of course, a green, healthy lawn does require some fertilizer — but not too much! Following the instructions on the fertilizer labeling is not always the solution. You first must determine how much your lawn needs.
Two Cooperative Extension Master Gardeners can come to your yard, take a soil sample, and measure the size of your lawn. (If you have other yard problems they will try to help you there also.) We send the soil sample to a lab at Virginia Tech, which assays it and replies how much fertilizer and lime should be used to promote a healthy lawn without contributing to nitrogen pollution. The Extension Master Gardeners then send that information back to you with advice on how to apply the fertilizer and lime. This guarantees that your lawn will not be the source of additional pollution to our local watershed. You can feel like a good citizen!
There is a $20 charge for this service. About two thirds goes to pay for the soil test ($10 fee plus $3 postage), and the rest pays for the test probes and measuring devices tools we use to perform this service.
Our brochure: Healthy VA Lawn brochure

What clients are saying: "Thank you for the detailed report on our lawn that will help us maintain it in a responsible way. This is an excellent program and is making a large impact on sustainable lawn maintenance, certainly from my personal experience. We appreciate all the dedicated individuals supporting this initiative and the great work you do."
Loudoun County Extension Master Gardeners partnered with Brambleton Community Association on a Lawn Care YouTube video. Learn from the experts and keep our watershed clean from pollutants. Click here for the video: http://youtu.be/R3H7FD36cog