The Extension Master Gardener Volunteer Program in Loudoun County develops volunteer educators who provide the public with garden information that draws on the horticultural research and experience of Virginia Tech and Virginia State University. The program is conducted through the local unit office of Virginia Cooperative Extension (VCE) – the Loudoun County Extension Office is at 30 Catoctin Circle, SE, Suite B in Leesburg.  Click here for our Loudoun MG Brochure.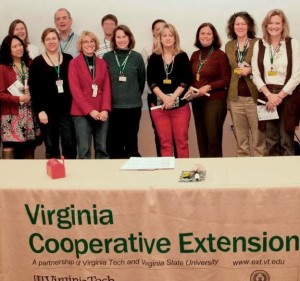 Application deadline for 2017 class is October 31st.  Be sure to submit yours early!
Extension Master Gardener Volunteers:
Answer horticulture and environmental questions at their Help Desk office located in the Loudoun County Extension Office and at local community functions.
Maintain a Demonstration and Teaching Garden at Ida Lee Park, Leesburg.
Promote the protection of water quality and the environment by advising on appropriate and safe use of pesticides and fertilizers.
Instruct neighbors and groups on proper care of lawns, trees, shrubs, flowers, fruits, and vegetables.
Conduct garden programs for diverse groups within the community.
Please visit the Programs section of our website for details on all our programs.
For detailed work/job descriptions within several programs, please click here: Job Descriptions
Who Should Apply?
Individuals should possess two attributes for acceptance into the program.
A willingness to give back to the community through volunteer efforts.
An enthusiasm for learning the fundamental aspects of sustainable gardening.
No experience needed.  A strong background in gardening – though helpful – is not necessary.
How Do I Apply To The Extension Master Gardener Program?
Prospective candidates must:
Read the VCE Application letter and review the descriptions of our many areas of volunteering: Job Descriptions.
Fill out an application by following this link to our application web page.  Applications due by October 31st.
Interview with Master Gardeners.
Provide personal references.
Undergo a background screening.  Background screenings are important to meet industry standards. Also, it protects the integrity of our agency, our volunteers, and our clients.  For more information, please see the VCE Volunteer Screening Information Brochure and the Volunteer Screening Frequently Asked Questions.
How Are Prospective Volunteers Selected?
Interviews will be held with Extension Master Gardener Volunteers at the Loudoun County Extension Office in early to mid-November. After completion of applicant interviews, a panel of Master Gardener Volunteers and Loudoun County Extension Office staff select Applicants based on an evaluation of their enthusiasm to learn, their willingness to volunteer and contribute to the Extension Master Gardener program, and their interest in promoting environmentally sound landscape management practices. Successful Applicants are admitted as Trainees once the personal references are checked and the background screening is complete.
Training questions can be answered by sending an email to LCMGTraining@gmail.com.  If you have a problem with this link, please copy and paste it in your web mail and send.