It's Spring!
by Jill Johnson, Virginia Cooperative Extension Master Gardener, Loudoun County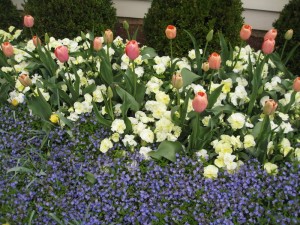 Spring cleanup continues this month but only when the ground is not soggy.  Carefully remove matted leaves that are covering up spring bulbs and ephemerals and cut back ornamental grasses, sedum and other perennials whose skeletons were left standing for winter interest.  As you cut back plants and tidy garden beds, you may uncover new growth that can be divided and move to fill in bare spots or create new beds.
Master Gardeners get together for plant swaps to trade their divisions – maybe you could start a plant swap in your neighborhood. It's a fun way to get new plants and the generosity of gardeners is amazing.  Staying on top of weeding this month is a challenge and so is knowing what a weed is and what may be a desirable seedling.  A good weed identification guide can be found on http://oak.ppws.vt.edu/weedindex.
Need a little motivation to get you kick started?  "Landscaping with Heirloom Plants and Herbs – Smithsonian style" is our free lecture on Thursday, April 9, at 7 pm in the Extension Office Conference Room, 30 Catoctin Circle in Leesburg.  Smithsonian horticulturist Erin Clark will share secrets of creating fragrant and colorful cutting and herb gardens using old-fashioned plants that many people overlook now but that are tried and true.  The Smithsonian Heirloom Garden is a treasury of these favorites from what may be considered the classic American flower garden.
"Get Started on a Great Vegetable Garden" will be presented free in the Demonstration Garden at Ida Lee Park on April 11 at 10am.  Experienced Master Gardens will share the secrets of soil preparation and seed selection and participants will learn how to plan and plant a great vegetable garden and grow healthy food at home.
Next, visit the Master Gardener booth at the Leesburg Flower and Garden Festival on April 18 and 19 where  Master Gardener volunteers  will help you select from the variety of home-raised seedlings, including  tomatoes, peppers, and assorted other vegetables and herbs.   We grow about 5000 plants for their annual sale. This year's selections include the purple calabash tomato that Thomas Jefferson grew at Monticello, which has been grown in Virginia gardens since at least 1782!  Or try Arkansas Traveler, an old Ozark sweet-tart heirloom that was the winner of the 2014 Loudoun County Master Gardener Tomato Taste Test.