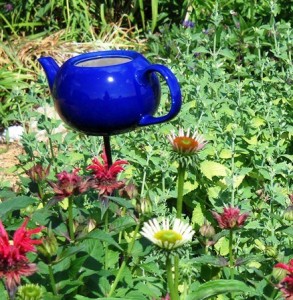 In 2010 we thought it would be great fun to create a garden devoted to making tea!  So we created  a Tea Pot Herb Garden, where we planted all kinds of herbs you can steep for teas. In fact, the bed is actually shaped like a teapot.
Plants at one time included:
Chocolate Mint
Pineapple Mint
Scented Geraniums (peppermint, rose, lemon, orange and strawberry to name a few)
Coconut thyme
Pineapple Sage
Download or printable Teapot Herb flyer with recipes.