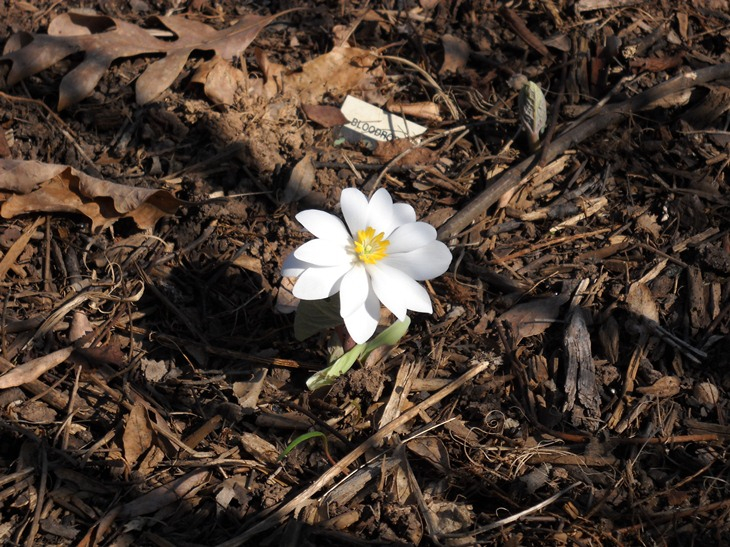 To highlight those medicinal plants over harvested or in such high demand that species populations are threatened. The mission "is to introduce medicinal plants considered "At Risk" or "To Watch" determined by United Plant Savers, a grass roots organization dedicated to preserving medicinal plant species around the globe. Plants are noted as such on the garden flyer in the hopes of raising awareness of our interdependence on the plant world for food, medicine, healing, and for the removing of noxious gases in air and soil and water".
Some plants included are Turmeric, Black Cohosh, Purple Echinacea and Stone Root. Read the At Risk Herb Flyer for additional information.
The Culinary herbs are a variety of herbs such as basils, oregano, thyme, and sage. The medicinal herbs feature many herbs used for medicinal purposes such as Angelica, an herb used in treatments for ailments ranging from coughs to flatulence! This garden is framed by two large fig trees.
Culinary Herb Garden Includes
| | | | |
| --- | --- | --- | --- |
| Prostrate Rosemary | Parsley | Papaloquilite | Basils, several types |
| Marjoram | Rosemary ARP | Curly and Garlic Chives | Sage |
| Chocolate Mint | French Tarragon | Chervil | Golden Sage |
| Variegated Oregano | Lovage | Sweet Curry | Savory, Winter and Summer |
| Oregano | Cilantro – three types | Garlic | Thyme, several types |
Medicinal Herbs and Their Uses
| | |
| --- | --- |
| Herb | Uses |
| Brown Turkey Fig | Applications to gout, leperous sores |
| Basil | Reduces blood sugar levels, antispasmodic, lowers blood pressure |
| Germander | Treatment for gout, uterine obstructions, jaundice, digestion. |
| Volcano Sage | Cold, flu fighter as induces sweating. Remedy for sore throat. |
| St Johns Wort | Repair nerve damage and reduces pain and inflammation. Reduces pain of menstrual cramps, sciatica and arthritis |
| Catmint/Catnip | Calming tea, good for indigestion. |
| Thyme | Treats coughs and congestion |
| Chamomile | Eases digestion, anti-inflammatory, anti-spasmodic, anti-microbial. Good for digestive disorders and nervous tension. |
| Echinacea | Treats cold, flu, boosts immune system |
| Curry | Improve functioning of stomach and digestion. |
| Dill | Aids in digestion, good for stomach, flatulence, and breast milk. |
| Feverfew | Prevents migraine, reduces platelet clotting. |
| Lady Bedstraw | Used in gravel, stone and urinary diseases. |
| Sunset Hyssop | Calming tonic, anti-spasmodic, sedative, used for congestion |
| Anis Hyssop | Calming tonic, anti-spasmodic, sedative, used for congestion |
| Santolina | Used mostly for décor, used to be used as a medicinal herb. Does work as a moth repellant. |
| Angelica | Reduces muscular spasms in asthma and bronchitis. |
| Sweet Annie (Artesmesia Annue) | Anti-inflammatory. Used for elimination of worms. |
| Valerian | Decreases muscular spasms, helps relieve stress and nervous tension. Helps with restful sleep |
| Oregano | Loosens mucus and helps relieve congestion |
| Horehound | Remedy for colds, dyspepsia, and expulsion of worms |
| Curry | Improve functioning of stomach and aid digestion |