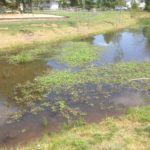 Aquatic plants growing in a pond can quickly get out of hand as the temperature warms up during the spring every year. A pond mostly covered with overly exuberant vegetation is not only a nuisance to pond owners, but can also be detrimental to life in the pond and negatively affect the pond's entire ecosystem. Many pond owners often instinctively reach out to herbicides for quick fixes. Unfortunately, this approach only provides temporary relief; nuisance plants will eventually return with a vengeance. Repeated applications are often needed to keep the situation in check, which often leads to overuse of herbicides. Plants can eventually develop resistance, leading to a continuation of the overgrowth problem.
Aquatic plants can be controlled with herbicides relatively easily and with little expense only if their spread is caught and treated correctly early in the season. Applying herbicides when the plant growth is already overwhelming the pond or killing off too much vegetation at one time could be costly and damaging to the ecosystem.
Virginia Cooperative Extension Loudoun County Master Gardeners can come out to visit your property to assess your pond. We take photos, samples and survey the surrounding landscape. Our goal is to provide pond owners a set of options for nuisance plant control so they may choose those best fitting their objectives. We lay out multiple options to fit a variety of goals and budgets.
2019 Form: Pond Assessment Request
We will get back to you within 3 business days to set up an appointment during the week (no weekends). You will get a detailed report within 2 weeks after the site visit.
Thank you for your interest in keeping our watershed healthy.