Choosing the right plant for the right place is the single most important factor in creating a successful garden. When the right plants are matched with the right conditions, they will be stronger and more resilient, reducing water needs and reduced pesticide use. Placing plants where they will do their best can go a long way towards a healthy, beautiful, watershed-friendly landscape in your own yard.
Soil types, temperature ranges and rainfall patterns differ dramatically from region to region within Virginia; in fact, there are distinct variations even within Loudoun County. A plant that thrives in a nearby friend's yard may struggle in yours. Conditions likely vary within the bounds of your own yard. For instance, your front yard may be exposed and dry, but your backyard may be damp and shady.
The design of any landscape has an impact on maintenance needs. Selecting the right plants and placing them in appropriate spots can reduce chores like pruning, fertilizing, and watering, saving not only time but money. Be sure to consider factors such as plant temperature tolerance, flooding or saturated soils, shade, dry areas, and use when planning your backyard design.
Spotlight: Green and Gold groundcover: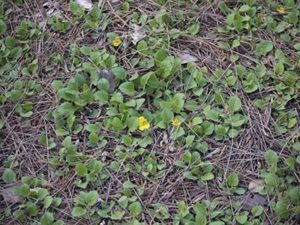 Turfgrasses require more frequent watering and maintenance than most other landscape plants. Consider defining areas of your yard to keep in turf for pets and children, for instance, and replacing other turf areas with a groundcover. Green and Gold (Chrysogonum virginianum) is a low, spreading groundcover, particularly in the front of a naturalized area or woodland landscape. (photo from Clemson.edu)
My Backyard measures for scorecard:
Note the growing conditions in and natural features of your yard, including your microclimate, soil quality, amount of sunlight and other factors that may affect successful plant growth. Credit = 2 inches
Determine how much open lawn area you desire for children, pets, and recreation. Then, choose plants suited to the site conditions specific to your yard, focusing on plants that thrive predominantly on rainfall once established. Credit = 2 inches
Choose low-maintenance groundcovers, shrubs, mulch, or other porous materials that allow water to infiltrate the surface. Credit = 3 inches
Group plants according to their water and other maintenance needs to facilitate providing appropriate levels of water and light to all plants. Credit = 3 inches
Choose plants that will not require frequent pruning for their location once they reach maturity. Credit = 2 inches
Locate trees and shrubs on the eastern and western walls of your home, to help decrease energy use. Credit = 2 inches
Locate deciduous trees or shrubs on southern exposures, to allow sunlight to heat your home passively in winter. Credit = 2 inches
Resources:
USDA Interactive Plant Hardiness Map
VCE Publication 426-609: Selecting Landscape Plants: Groundcovers
VCE Publication 426-610: Selecting Landscape Plants: Shade Trees
VCE Publication 426-605: Selecting Landscape Plants: Conifers
VCE Publication 426-607: Selecting Landscape Plants: Broad-Leaved Evergreens
VCE Publication Hort 84: Selecting Plants for Virginia Landscapes: Showy Flowering Shrubs
VCE Publication 426-617: Planting on Your Septic Drain Field
VCE Publication 426-712: Conserving Energy with Landscaping
VCE Publication 430-026: Wet and Dry Sites
VCE Publication 426-722: Reducing Erosion and Runoff (plants to assist)
VCE Publication 430-462 Shrub Pruning Calendar and Successful Shrub Pruning
VCE Publication 430-460 Deciduous Tree Pruning Calendar and Successful Deciduous Tree Pruning
VCE Publication 430-461 Evergreen Pruning Calendar and Successful Evergreen Pruning